Please Leave Us Your Customer Review
Driving Lessons Shaftesbury
If you have had driving lessons before then again please don't worry, all of our driving lessons start off with Q&A, we want to know your history or back ground of driving experience or knowledge, and don't worry as this isn't a test, we just want to know where you are at with your driving lessons so we know where to start off with your driving lessons. We don't want to waste time unnecessarily trying to teach you what you already know.
Depending on your feedback at the start of the lesson "I was test ready but haven't driven for the past 8 months" for an example, then we would probably suggest taking you too a quiet location to get you started and warm you up, after all if nothing else, this could be a completely new car to the last one you drove.
Just remember your safety and those around you are always our first concern, so we will always listen to your needs or concerns and we will do everything we can to keep you safe while allowing you to progress at a pace that you're comfortable with.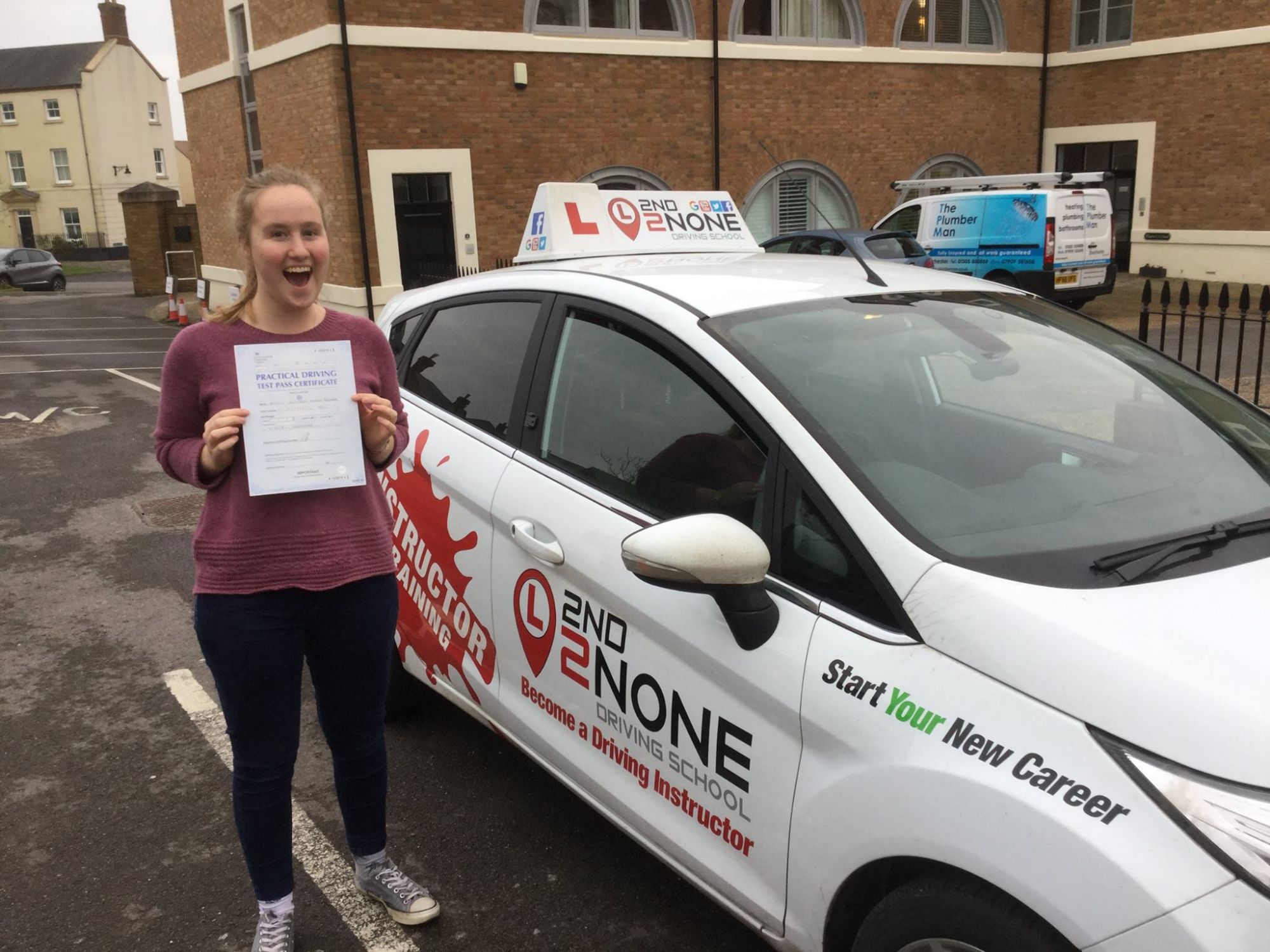 Very Important Notice
Not all driving instructors are the same, there can be some very different ways of teaching you to drive, some will work and some not so much. You will find that all driving instructors do things in their own way and this can vary even among our own team.
The great thing about our driving school is we are more than one instructor; we are more than happy if you wish to change your instructor to another member of our team. It's impossible to get on with everyone you meet in life, sometimes you might not gel with someone but don't worry as we will always be here to help.
Please remember to take a look at our customer reviews and you can also see social proof of our driving test passes on our Blog, Youtube channel, Pintrest and Instagram accounts.
We currently have 8 local driving instructors covering Shaftesbury and the nearby area and all come highly recommended and have had plenty of driving test passes under their belt.
Can I drive home on my first driving lesson?
You might not be surprised but we get asked this question a lot and it totally depends on your progress on that lesson and of course where you live, no two pupils are the same and no two pupils will ever learn in the same way or at the same speed. Our No1 priority is your safety so we will assess how the lesson goes and if we think it is safe enough and you are capable then yes it is possible that you might drive home at the end of your first driving lesson.
How many hours will I need to pass your driving test?
Again, the above applies. Your progress and the number of hours you will need to reach the driving test standard will be uniquely your own but seeing as the nearest driving test centre is at least 37 minutes away we would expect the average person to take around 30-40 hours to reach the driving test standard but of course this can be more or less.

Manual Driving Lessons Shaftesbury
Taking your driving lessons in a manual car is still very much the most popular option, passing your driving test in a manual car will give you the most options with your driving licence and allow you to drive all Category B vehicles including automatic cars.
With our local manual driving lessons our driving instructors will be happy to give you regular weekly driving lessons at a time that suites your own availability, this can be the same time each week or you can mix it up a little and have your driving lessons at different times of the day. This can prove usful especially as your own driving progresses as it will allow you to experience many different traffic conditions that often change throughout the day.
You will be able to start your driving lessons from home, work, school or college as long as it has been pre-arranged with your instructor beforehand. 1 hour driving lessons are available but we do charge a premium for this, most of our driving instructors prefer a 2 hour driving lesson as this will allow you to progress each lesson even more and reduce your overall time it takes you to reach the driving test standard, possibly saving you a lot of money in the process.

2 hour driving lessons become even more important as you progress as you will need time to reach the driving test centre areas as they can be around 20 miles away from Shaftesbury and have very different driving conditions for you to experience and feel comfortable with before taking your driving test.
We are happy to take pupils to the following driving test centres, Yeovil, Poole, Dorchester, Salisbury or Trowbridge and even further afield if required.
Please be aware that times between 3-6 pm are very popular and there may be a wait for driving lessons at these times.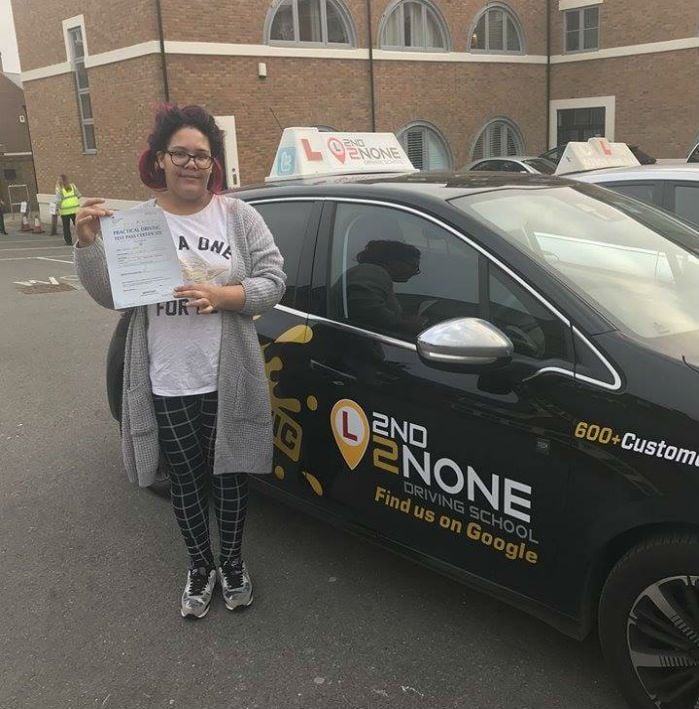 Automatic Driving Lessons Shaftesbury
So why take your driving lessons in an automatic car?
Learn to drive in and automatic car is becoming more and more popular and not just from people that have struggled learning to drive in a manual car.
Learning in an automatic is so much simpler, it takes away a lot of the stress and greatly speeds up most peoples progress when learning to drive. There is no clutch of fidgety gear stick to worry about, you dont have to worry about over revving that noisy engine as the car changes to the appropriate gear for you as you speed up or slow down.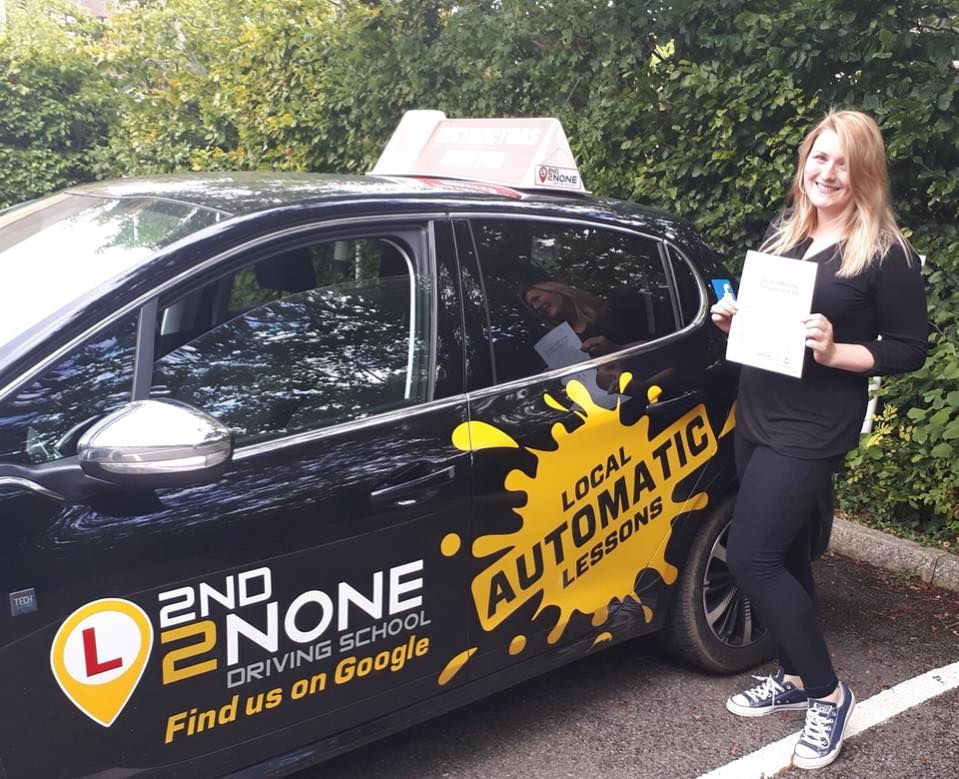 Because so much of the driving is taken care of for you, you can relax and start to enjoy learning to drive at a much easier pace. Because so much is done for you, your mind will be free to spend your time concentrating on the road instead of the gears. Moving off at junctions is also a lot easier and quicker as you literally have to aim, and press go on the accelerator, no remembering to take it easy with the clutch while remembering to push harder on the accelerator.
Now obviously there is still plenty to learn so don't think it will be 5-6 hours of lessons and your test ready, but normally people who learn to drive in an automatic car will progress and reach the driving test standard much sooner, saving you a lot of time and money.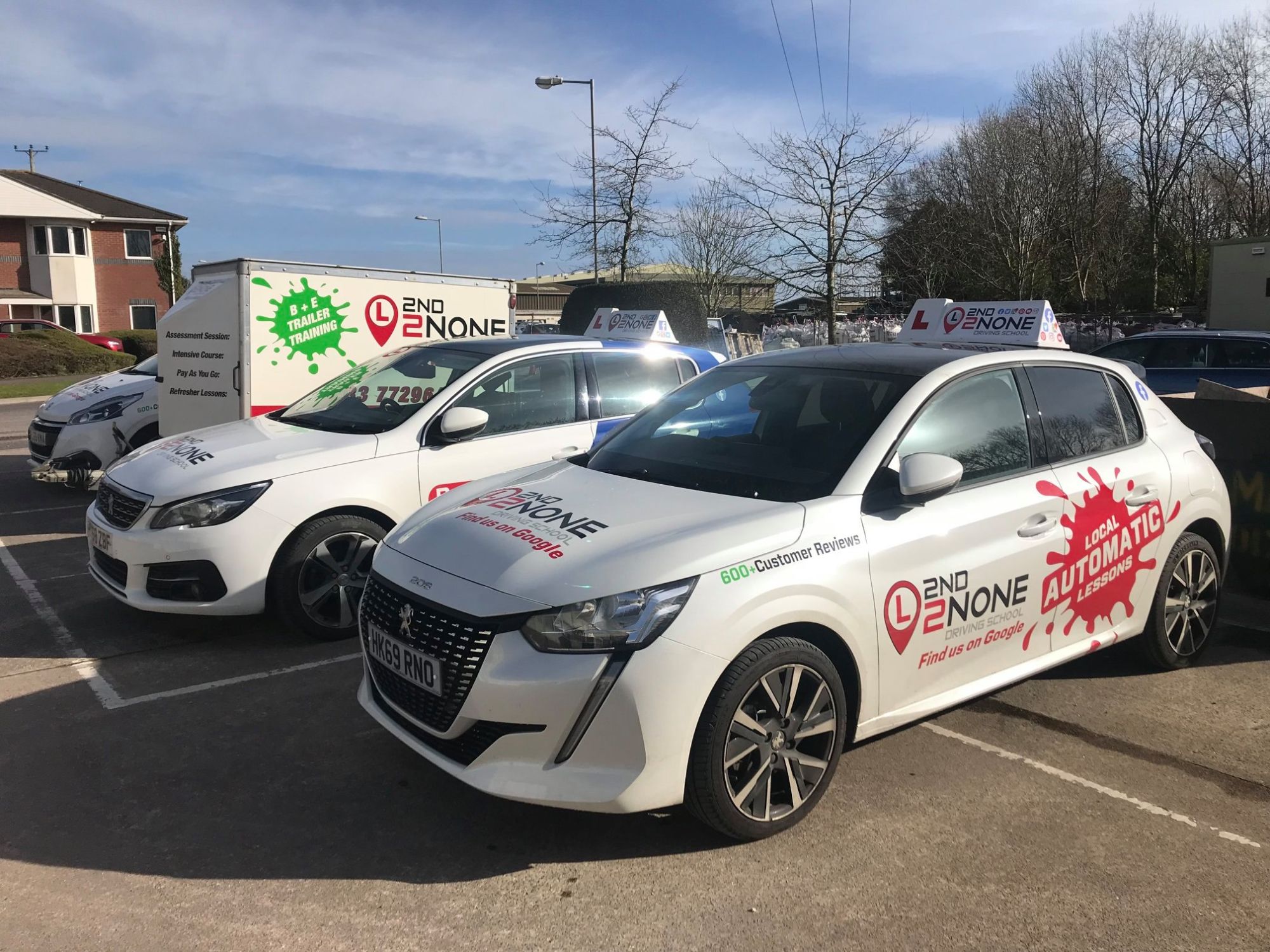 Intensive Driving Courses Shaftesbury - Crash Courses - Pass Fast Courses
Intensive driving courses are ideal if you are in a hurry to pass your driving test or you dont have the time to spare for weekly driving lessons due to school or work commitments. All Intensive driving courses in Shaftesbury will need to be booked in advance and you will need to have passed your driving Theory Test first.
We offer Intensive driving courses from 12 hours to 42 hours so there is a driving course to suit all levels of driving experience. Once you have passed your theory test give our office a call on 01747 440500 to check the dates for the next available test date and we will then get your driving test booked and organize your intensive driving course at a time that suits your availability.
Please take note there can at times be upto an 8 week wait for a driving test at all test centre at certain times of the year. Our team of driving instructors will be happy to help you take your driving test at any UK test centre but your nearest test centres to Shaftesbury are Salisbury, Yeovil, Trowbridge, Dorchester and Poole.
Intensive Driving Courses are available as either Manual or Automatic Driving Courses over 1-2 weeks depending on the number of hours you require, al courses run 9-4 on a Monday to Friday basis unless otherwise requested.

PRE-17's Driving Lessons Shaftesbury (12+)
This is where the magic happens, it never ceases to amaze me how most of the 12 year old's that come to our under 17's driving lessons progress quicker than a lot of our 17 year old's that we teach driving on the road first time.
It could be their ages and the fact they are like sponges at this age sucking up so much knowledge around them unfortunately parents bad driving habits as well. It could be because at our off road venues we have taken away the pressure of the busy roads and made learning to drive fun as well as informative.
We have heard back from parents and pupils a like on what a fantastic experience this is for young want to be learner drivers and also that often what they learn here at our driving events they often take home with them in the car, parents have commented of being told they are doing it wrong by their youngsters when it comes to their own driving.
By starting to drive at a younger age the children that attend have a more positive attitude to driving and the potential dangers they face while driving on the road. The earlier in age this education starts the better and safer driver they will often be when they come to driving at 17.
Our main venue for Shaftesbury is Hestridge Airfield around a 15min drive from Shaftesbury, events are held here once a month and have been for the past 7 years. We often have 3 -4 instructors at each event so can handle 15-20 youngsters a day for their driving experience. Our other not so near venue is The Royal Bath & West Showground near Shepton Mallet, events here run less often but offer a much larger area for young drivers to experience, The Bath & West event can normally take up to 30 young drivers a time.

Please remember that all event places must be booked in advance and often do book up months in advance.
Our under 17's are open to anyone aged 12+ that meet the minimum height of 4ft 11ins. We can often provide both manual and automatic dual controlled cars for both events but please let us know if you need a specific transmission to be available.
Please see our under 17s driving lesson pages for more details on both these events.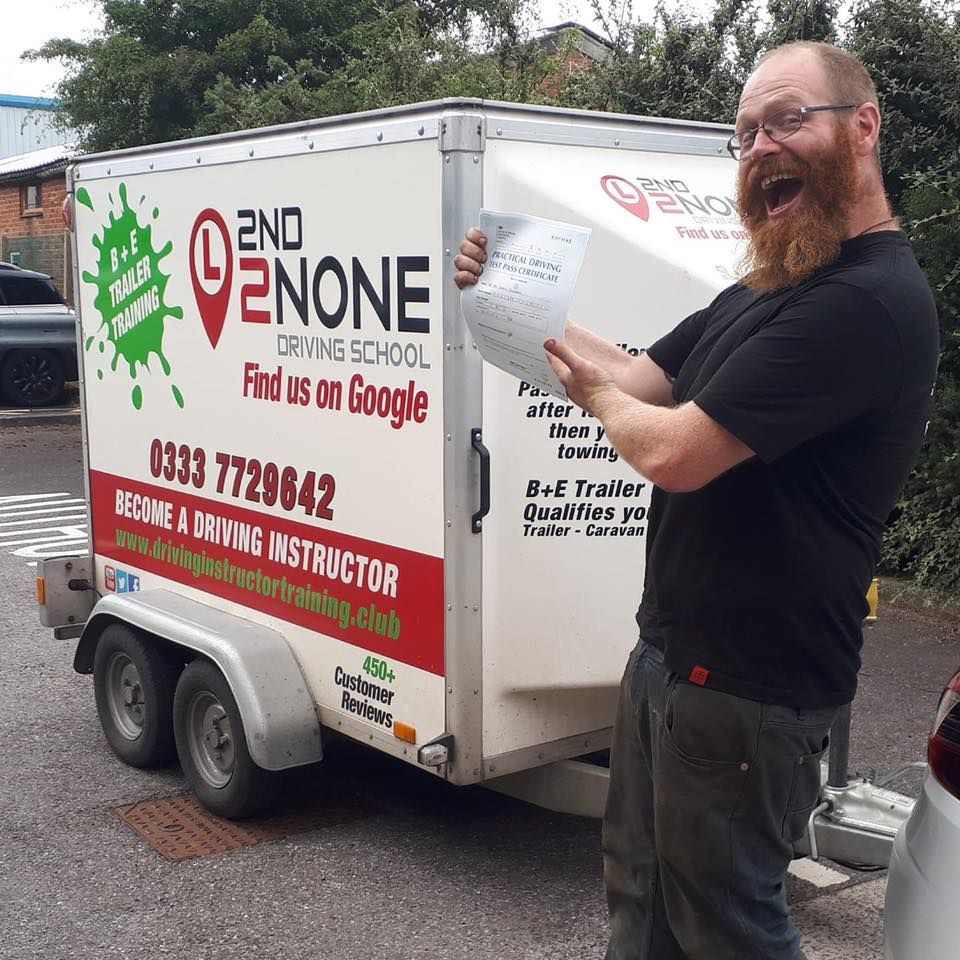 Trailer Towing Courses (B+E)
Are you towing illegally?
If like me, you were unlucky enough to pass your driving test after the 1st January 1997 then you will only be entitled to drive Category B vehicles with your driving licence. What this means is that you cannot tow any trailer over 750kg on your current car licence, this could limit you from towing some caravans and horseboxes or even a loaded car trailer and you will have to take an additional driving test in order to gain the B+E entitlement.
So, what is the B+E trailer test and what do you need to do to get started?
The driving test itself is pretty much like the normal driving test, as in you will be expected to drive to a high standard but this time the driving element of the driving test will last for around 50 minutes so you need to be able maintain that standard throughout the test. As part of the B+E driving test you will need to carry out an independent drive using local road signs.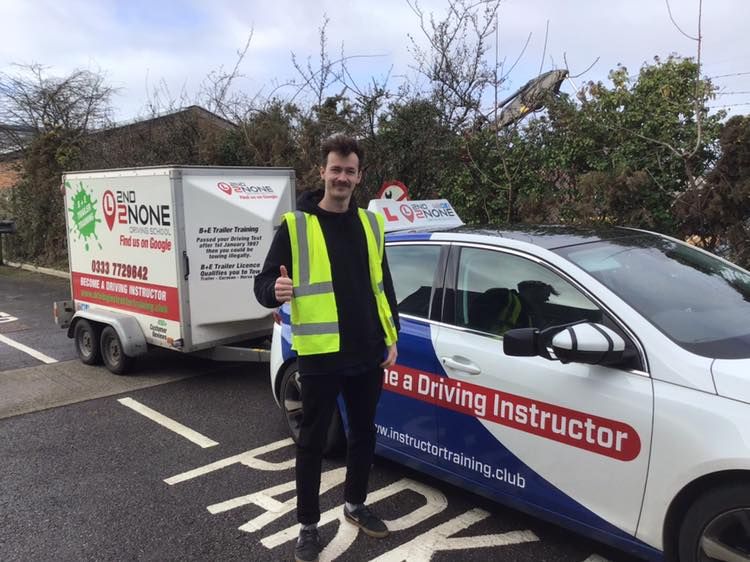 You will also be expected to uncouple and recouple the trailer in the correct order from the towing vehicle and carry out the reversing exercise at the test centre.
You will also need to pass an eyesight check and answer some show me tell me questions about your trailer and load.
You don't need to take an additional Theory Test.
If you would like a 2-hour assessment then please get in touch and we would be glad to help.
Become A Driving Instructor in Shaftesbury
Have you ever considered training to becoming a driving instructor?
Train to become a driving instructor in Shaftesbury with 2nd2None Driving School and help us to satisfy the incredible demand for driving lessons. In just a few short months you could be earning up to £35 per hour with a company car doing one of the most enjoyable and rewarding jobs on the planet. Be your own boss, work the hours you choose and look forward to going to work each day. The enjoyment from seeing one of your learners pass the driving test can not be surpassed.
Call our customer service team on 01747 440500 to find out more about our driving instructor training courses.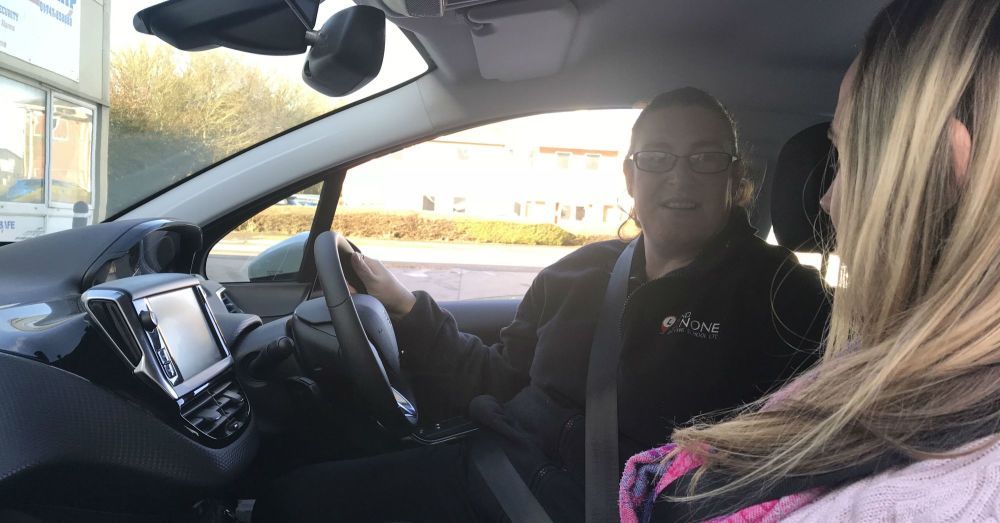 Meet Your Local Instructors
Below are your local team of driving instructors providing driving lessons in Shaftesbury

Driving Instructor
Trailer Training
Company Director

Driving Instructor
Manual & Automatic
Admin Staff

Driving Instructor
Manual
Trailer Training

Driving Instructor
Manual & Automatic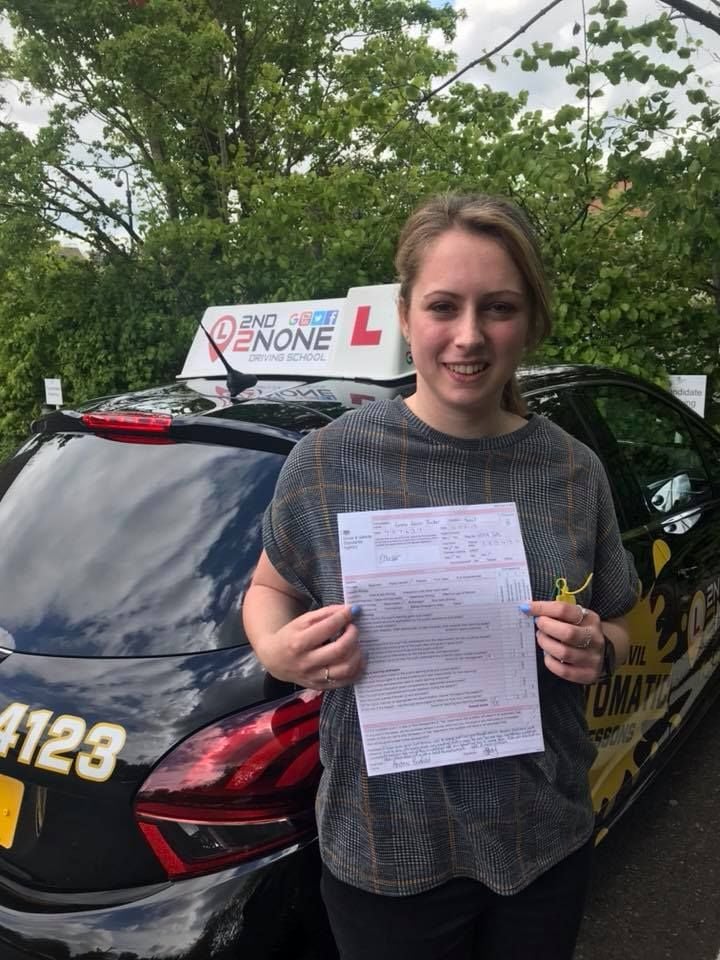 Driving Instructor
Automatic

Driving Instructor
Manual

Driving Instructor
Manual

Driving Instructor
Intensive Courses
Manual & Automatic
Just some of our local driving test passes
Since 2012 we have had literally hundreds of local driving test passes in Shaftesbury, below are just a few of our driving test successes.

I passed my driving test first time with only 5 minors. Thanks to James my instructor for all your help and patience. This is going to make a big difference to me passing my driving test as now no more waiting for the bus to college. :)

Molly Masters
When I first started driving, I was so nervous, but learning to drive with 2nd2None was great, I felt at ease in no time, and I've just passed my test first time! My instructor, James, was very helpful, and I wouldn't have been able to do it without him! Thank you 2nd2None Driving School!

Just passed my test with thanks to James Orgar for helping me all the way definitely recommend him to anybody looking to start driving, 2nd2None all the way !!!!!!

I've just passed my driving test first time ! Yepee. Thanks to 2nd2none for helping me along the way and a big thans to james my instructor for giving me guide nice and the confidence to do so. My lessons were fun and a big laugh. I would fully recommend 2nd2none driving school. This is going to make such a difference to my life, I now have my independence now I can drive!

Thank you to James from 2nd to None for getting me passed first time with only 3 minors! I highly recommend them, great team, great teaching! I attended the under 17s at Henstridge twice in a year! It was such a great experience and I am so happy to have passed today! All the hard work pays off!????

Ashlie Summers Fontmell Magna (30 Oct 2012)
Thankyou for being my 3rd instructor :) never thought i would have passed at the rate I was going, so happy to be the last one to pass in your old car and on my first attempt :) Going to miss having such a giggle with someone in the car now. Thanks again James!! xx

I've just passed my test first time after doing a four day intensive driving course. James is a great instructor and very helpful. He upped the challenge everyday for example going from Poole one day to the centre of Bristol the next. This course was definitely worth it and I would recommend to other people.
I chose this driving school as I was recommended by a friend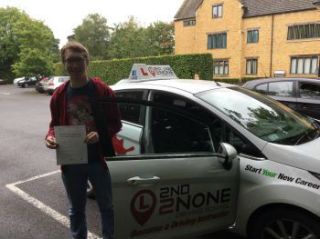 Just passed my driving test, did an intensive course to get things out of the way before i get back to uni. Quality of the teaching was excellent and the instructors were friendly and supportive"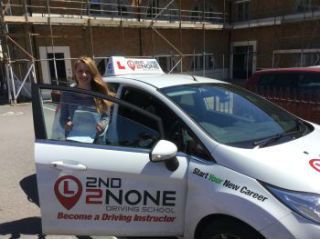 I passed my driving test 1st time after completing a 36 hour intensive course with James having had no previous driving experience. Strongly recommend both 2nd2None as a driving school and James Orgar as an instructor!
I chose 2nd2None driving school for my intensive driving courses because of all the great customer reviews on Google.

Amazing instructor! Helped me through all aspects of driving and I passed first time with only 2 minor faults!
Why Did You Choose Our Driving School For Your Driving Lessons: One of my friends recommended it to me.

My driving instructor was Lorraine Rydon, 10/10, great instructor, helped me iron out every single or last thing. Would 100% recommended to anyone else.

I chose this driving school because of the reviews on Facebook and a friend recommended.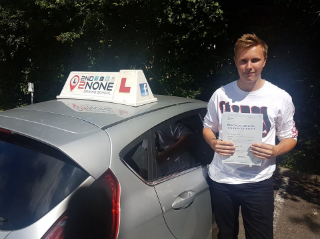 Great friendly service, really helpful guidance from Chris himself, I passed first time with one minor, couldn't recommend him more!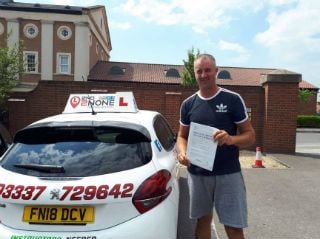 Lee Carroll is the best driving instructor and company you could have. He put you at ease straight from the start. I would fully recommend them to any one I know.
I chose 2nd2None driving school for my lessons because I wanted to do an intensive course and they gave you value for money.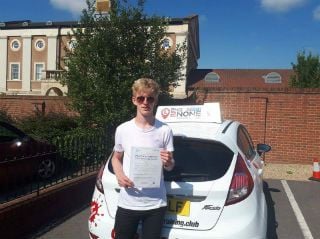 My instructor was Lorraine Rydon, Lorraine is a quality instructor, would highly recommend her to anyone in the future. Really enjoyed learning to drive. I chose 2nd2None driving school because I heard good things from friends and I wasn't disappointed.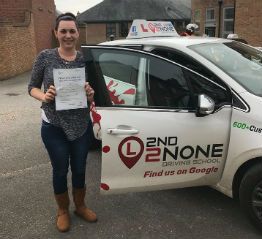 I can't believe I passed, James helped me so much I couldn't thank him enough. Even at my lowest he always to make me feel better. Absolutely amazing instructor and driving school.

Why Did You Choose Our Driving School For Your Driving Lessons: I heard so much good things about them.

James helped me a lot to gain confidence in driving. Thank you for your kindness and patience

Katie said " Friendly, punctual and supportive teacher! Always look forward to my lessons with Lorraine !!"
Why Did You Choose Our Driving School For Your Driving Lessons: "Close and local office, had heard of the driving school before and had it recommended by friends."

Really enjoyed my lessons with James Orgar. Always felt calm and focused on the positives rather than the negatives and got me to pass first time so couldn't of asked for anything more!!!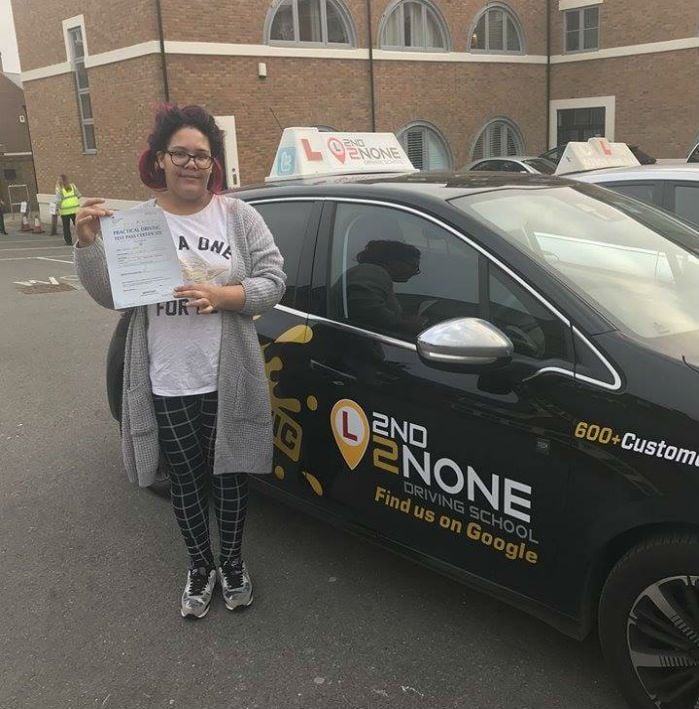 Sarah " I was very happy with my lessons with James, I couldn't have done it without him. I found 2nd2None on facebook and it was easy to book lessons. I will be recommending James and the driving school to my friends"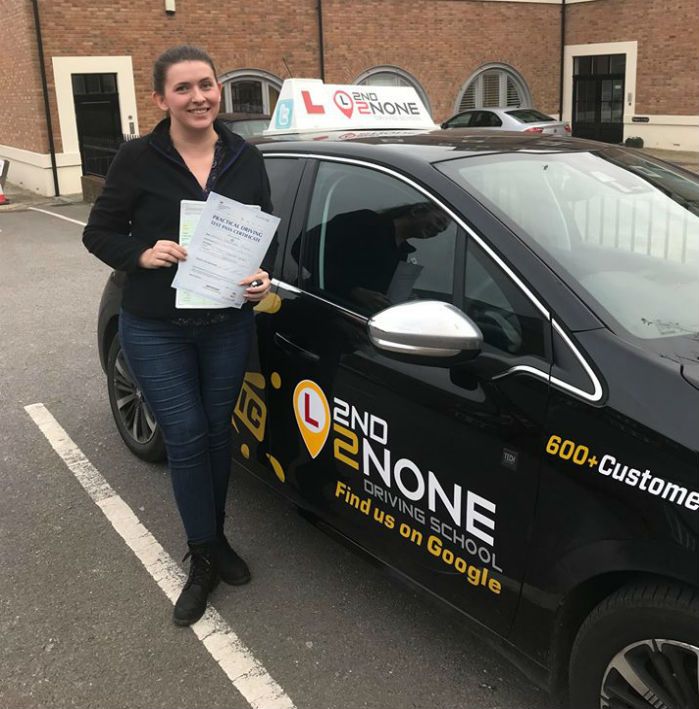 James is the best teacher I have ever had. I don't think I could have passed the test without his help. Perfect balance between friendly encouragement and conveying information in an easy to understand way. With his help I passed first time with only 2 minors. Just a few months ago I was a very nervous driver and thought I would never be able to drive. I can't thank James enough!

Thanks everyone at 2nd2none on your patients and putting up with me, i highly reccomend 2nd2none Driving School 5 stars ⭐⭐⭐⭐⭐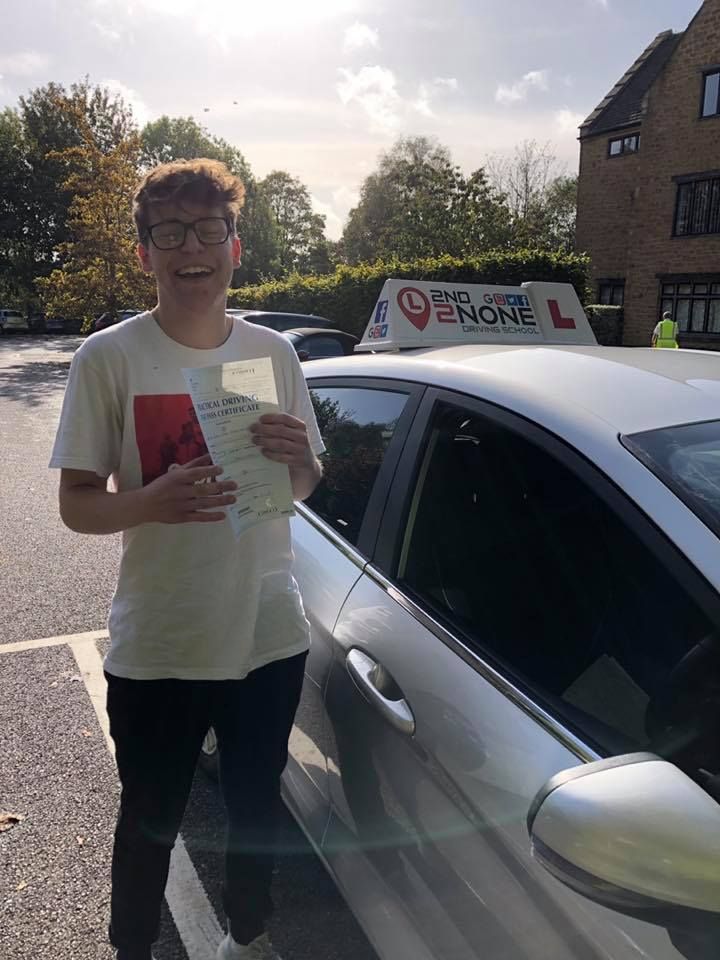 Dylan said " Yes, the lessons were very useful, I enjoyed them and learned very fast, it was easy to book lessons - especially Holly. I chose this school because all my friends recommending me after passing."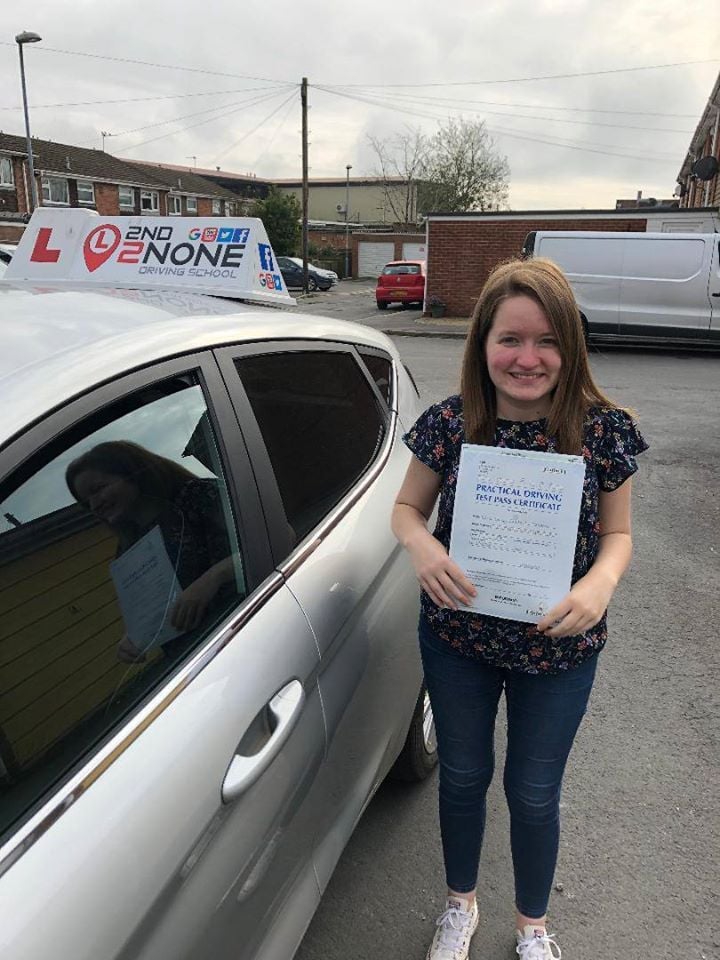 Right from the start I enjoyed my lessons. Glenn always made them fun and enjoyable. Even when I made a mistake it was never a bad thing. He made me feel very comfortable when driving and would recommend him to anybody! Lessons were always used to the maximum and it was made so easy to learn everything. We also had a great laugh along the way!!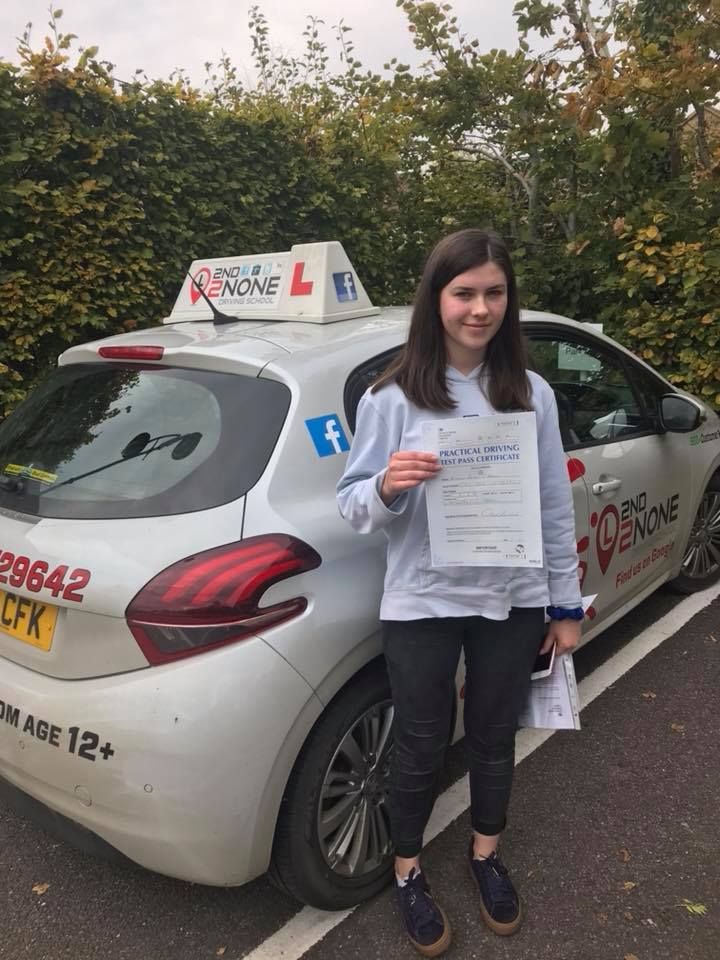 My driving instructor was James. I really enjoyed my lessons, I particularly liked learning to parallel park I feel like I picked it up quite quickly because I was taught a very easy way to do it.

The lessons were structured well, everything was explained clearly and I always knew what I was doing. It was really easy at the end of every lesson, I booked the next one. I chose this driving school because the company was advertised very well, the website and Facebook page drew me in.

Congratulations to Gemma Williams from Shaftesbury on passing her test today 14/02/20 in Yeovil after completing an intensive course.
Well done Gemma and safe driving in the future from your Driving Instructor Lorraine Rydon & all the team here at 2nd2None Driving School

I would recommend 2nd to none, James made me feel so relaxed before my test and gave me the confidence to go on and pass my test.

Absolutely amazinggg!!! Emma was fantastic and helped me to pass first time! Highly highly recommend Emma if you want to learn in an automatic :) xx
Our head office is based in Shaftesbury, please feel free to call in to our office anytime between Monday to Friday 9-530 or Sautruday 9-1 to speak to us about your driving lessons.
Our office can be found at
Unit 40b Wincombe Business Park
Shaftesbury
SP7 8FS
01747 440500
Shaftesbury is a town and civil parish in Dorset, England. It is situated on the A30 road, 20 miles west of Salisbury, near to the border with Wiltshire. It is the only significant hilltop settlement in Dorset, being built about 215 metres above sea level on a greensand hill on the edge of Cranborne Chase. Wikipedia
Population 7,314 (2011)
OS grid reference ST861228
Postcode district SP7
Dialling code 01747