Driving Lessons in Barnstaple
Find your freedom and independence with a full driving licence.
A local driving instructor covering Barnstaple and the surrounding area for manual driving lessons.
Learn to drive with one of our local driving instructor professionals, and each of your driving lessons will be adapted and tailored to help you progress towards reaching the driving test standard at a pace that suits your ability and comfort zone.
Most people think that all driving instructors are the same, but did you know that an amazing 30% of learner drivers change their driving instructors before ever taking a driving test. That's a staggering 234'000 learner drivers that change instructors every year.
So what does this tell you about driving instructors? Well, for one, we are not all the same, and your choice of driving instructor is a very important one that can make a massive difference to your progress and the cost of learning to drive.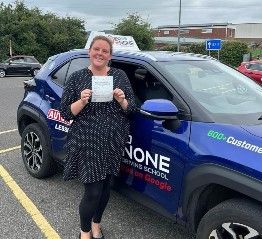 Automatic Intensive Driving Courses
An automatic intensive diving course will allow you to reach the driving test standard and pass your driving test in one to two weeks instead of months.
Learning to drive will give you the freedom to do what you want, when you want. Being able to drive also opens up new job opportunities, so it sometimes makes sense to get your new freedom and new job prospects now instead of 8-10 months down the road.
Our automatic intensive driving courses have been designed to deliver great results and get you on the road with the least time and hassle. For the complete beginner, we can offer you the choice of 36 or 42-hour driving courses where you can complete all your driver training in just one or two week's over 6-7 days, with a driving test on your final day.