Under 17's Driving Lessons Cornwall
PRE-17 Driving Lessons with Qualified Driving Instructors in Dual Controlled Cars from just 12 years of age.
Private, Safe, Fun Training area to give you an driving experience you wont forget.
This venue runs once a month January to November
Under 17's Driving Lessons Cornwall
So whats it all about?
2nd2None Driving School with the help of its local driving instructors have been running Under 17's Driving Experience Days in Cornwall since August 2015 when we launched our Cornwal PRE-17's Driving School at Perranporth. We moved our operation to Stithians Showground in February 2018 as we feel this new venue allows us to offer a much more varied range of PRE-17's driving lessons.
Our PRE-17 Driving Experience days are designed for anyone aged 12 and up, our eldest customer was 101 year Granny Morgan that visited another one of our driving venues in Somerset and we have even provided driving experience days for Somerset Sight and Dorset Blind associations at some of our driving venues. Gift Vouchers are available
Our Goal is to help young people stay safe on the dangerous roads of Cornwall. What they learn here with our DVSA approved driving instructors will help them prepare for on the road driving lessons when they turn 17 and leave them with the much needed driving experience to help them stay safe while out driving on their own.
Its not surprising that lack of driving experience is a big factor for newly qualified drivers being involved in road traffic accidents after they have passed their driving test.
We hope with our driving experience days to give young drivers a better chance of remaining safe on the road by educating them at an earlier age. From our own experience we have found that young drivers that have attended our driving experince days have actually passed some of the knowledge they have learned on to their parents and it has actually led to these parents thinking about and sometimes changing how they drive themselves.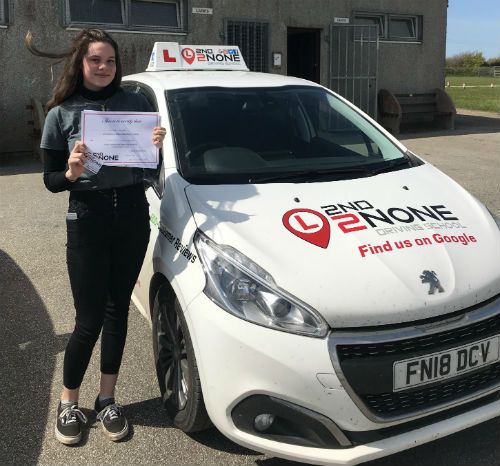 As well as helping young drivers develop these new skills that they require to stay safe on the road, we also try and keep things fun and an enjoyable driving experience, this is why we set the age minimum to 12 years of age as we have found at this age most of the pupils will want to learn and will easily take onboard our road safety message. Younger than this and its all about racing around for most, they just see it as pure fun and dont really understand the important safery side of things.
These driving experience days at Stithians Showground are suitable for drivers of any age, the younger they start, then we find the better the importance of road safety will stay with them as they develop their driving skills and experience. But of course these experience days are also suitable for first time drivers that maybe are 17 or older but are nervous about learning to drive, we can help them gain car control and help them relax behind the wheel before they have a drive on the road.
All of our driving instructors here at the Stithians Showground driving days are experienced local driving instructors that can offer driving lessons across the major towns of Truro, Redruth and Falmouth along with the surrounding areas. This can be a perfect opportunity to come and learn the basics of driving and at the same time meet the local team of driving instructors before you start your on the road driving lessons once you turn 17.
Whats more, everyone that attends the PRE-17's driving lessons here can also gain FREE access to our online theory training software to help them improve their driving knowledge and experience further.
So what exactly will you be learning?
The driving lessons are carried out on a mixture of tarmac and gravel roads around the showground, we also have several roundabouts setup for you to negotiate along with replica road signs and different road features often found in real road situations.
You will learn how to move off and stop the car, how to use your mirrors to make sure you remain safe. You will also learn how to use the clutch and chang gear, control the car while steering and as you progress through our training program you will be able to perform reversing exercises and carry out the Controlled Stop.
Your driving instructor on the day will record your progress of each session using your driving log book and you will also receive a driving experience certificate once you have reached the differnt driving experience levels as set out in your driving log book.
All the driving school cars are dual controlled and have a manual gearbox, We maybe able to provide an automatic car upon special request if asked for when you book your session (Unfortunately This can not be guranteed unless agreed when you book your session).
All sessions must be booked and paid for either online or by phone