Automatic Driving Lessons Bristol

Automatic Driving Lessons Bristol
Local Automatic Driving Instructors in Bristol

Automatic Driving Lessons Bristol
Automatic intensive driving lessons can be ideal for anyone who struggles with changing gear, who finds driving a very complex task (even after a fair few lessons, when for most of us the whole clutch-gear-biting point thing has switched to autopilot mode)
Automatic Driving Lessons in Bristol will take away the stress of learning to drive and make the whole experience and enjoyable one.

Benefits of learning to drive an automatic car
Driving an automatic car has definite benefits, too. The car changes gear for you at the appropriate time, so you'll rarely over-rev an automatic car; and although your fuel consumption may be slightly less economical than a manual car, overall it can make a worthwhile difference in the level of effort required when driving on longer journeys.
Learning to drive in the extremely busy streets of Bristol can be very exhausting and troublesome for a lot of learner drivers, driving an Automatic car can make learning to drive a lot less stressful as all you need to do is control the brake and the accelerator. This will give you so much more time to think about the road and other road users and not thinking about your clutch and gears.
We often find this can also lead to you needing less overall driving lessons as you will pick up driving a lot quicker which can save you both time and money.

However, there are several significant downsides to driving an automatic car. If you take your driving test in an automatic car, you're not qualified to drive a manual car. If, on the other hand, you pass your test in a manual, you are allowed to drive an automatic.
There are no real issues with automatic lessons in themselves: you learn the same things (mostly) and are examined on the same aspects of driving in your practical test. The difference comes when you actually pass, and only you will know if those differences are going to matter.
We have specialist automatic driving instructors in Bristol that concentrate their teaching skills on automatic driving lessons.
Currently we cover north and East Bristol for Automatic Driving Lessons, so Kingswood, Hanham, Emersons Green, Warmley, Mangotsfield, Cadbury Heath, Downend, UWE Frenchay Campus, Filton, Horfield, Bradley Stoke, Stoke Gifford, Patchway, Southmead, Westbury Village, Henleaze, Brentry, Sea Mills, Avonmouth, Coombe Dingle.
If we don't cover your part of Bristol for automatic weekly driving lessons we can still provide you with automatic intensive driving courses that are available in Bristol - Bath - Yate - Midsomer Norton - Radstock and other fringe areas of Bristol.
Please contact us for our coverage area on 0117 9051155


Another 1st time pass today, this time for Will Matson who has been having automatic driving lessons with his driving instructor Kerry Cade.

Congratulations to Catherine Allard who passed her Automatic driving test today 29/11/16 FIRST time & with only 3 minors.
Well done Catherine & safe driving in the future from your driving instructor Kerry Cade & all at 2nd2None Driving School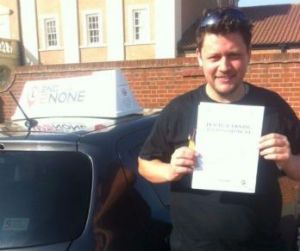 David Brayshaw
I can't thank Paul Shackleton enough for all the help and encouragement he has given me during this driving course. I started off terrified behind the wheel and concerned because of my limited mobility. But Paul is a great teacher who was patient with me yet pushed me when I needed to be pushed. He taught me the skills and gave me the confidence I needed to pass first time.
Thanks again Paul.

A big congratulations to Emma J Bellew who passed her Automatic Driving Test today with her driving instructor Paul Shackleton.
Emma had taken her manual driving test a couple of times before but could never really master the gears. Now with help from Paul, Emma passed her Automatic driving test at the first try.

Congratulations to Dean Ford on passing his test FIRST time today 24/04/18 after completing an intensive course.
Dean said "Ray has been brilliant and has been very patient and helpful. And i am delighted to have passed my test 1st time thanks to Ray. "I did research online and had found the driving school 2nd2none to be very reputable."
Well done Dean and safe driving in the future from your driving instructor Ray Munro & all the team here at 2nd2None Driving School

Congratulations to Carly Stroud who passed her automatic driving test today 20/04/18 FIRST time.
Well done Carly and safe driving in the future from your driving instructor Kerry Cade and all the team here at 2nd2None Driving School
Automatic Intensive Driving Lessons Bristol
Call 0117 9051155
www.2nd2nonedrivingschool.co.uk
Automatic intensive driving Lessons in
BS1 - BS2 - BS3 - BS4 - BS5 - BS6 - BS7 - BS8 - BS9 - BS10 - BS11 - BS12 - BS13 - BS14 - BS15 - BS16 - BS20 - BS30 - BS31 - BS32 - BS34 - BS35 - BS36 - BS37 - BS48