If you're looking for a driving school Partnership that guarantees you a good pupil supply in just 2-3 weeks, you've come to the right place.
Trial our partnership franchise FREE for 4 weeks and see just how many pupils we can get you.
Welcome to our Driving School Partnership
2nd2None Driving School was created back in 2009 and has grown an enviable reputation for the best customer service, the greatest team of driving instructors and the best driving tuition your money can buy.
With the growth in our reputation for excellence has come even greater demand for our services. Our team of local driving instructors now help over 500 people every year to pass their driving test with many more still learning. The worst part of the job for our team, is saying sorry we can't help due to their being too much demand.
Over the years we have amassed over 10,000 followers on our social media pages and our extremely proud of our collection of over 1000 customer reviews. We strive to deliver the very best experience for our customers and we now require additional driving instructors to join our team.
Our Driving Schools Priorities
Great customer service is always of the most important priority
Our pupils and their needs must be held high by our team
We expect our team of driving instructors to go above and beyond for their customers within reason
We expect our team of driving instructor to train their pupils for a life time of driving and not simply to pass the driving test
We think you will find our team partnership franchise offers great value for money and you will love how we operate our business. But dont just take our word for it, have a watch of the videos below from some of our existing team partners.
So what do you actually get when you join our team?
I'm going to start with what I feel is the most important thing we give you when you become a member of our team, and it must be, our loyalty and support. When you are part of the team you know we are there to help and support you whenever you need it, no matter what the problem is, we will do all we can and pull out all the stops to help both you and your customer and that is our first GUARANTEE.
We also Guarantee if at anypoint in your time with us that you find yourself low on work, we will not charge you any franchise fee.*
*TERMS & CONDITIONS APPLY
Rewarded for CPD Completion
To be the very best you can be, we believe that regular training and continuous learning is always the best way to stay on top of your game. So with this in mind we like to reward our driving instructors and encourage them to partake in regular CPD.
We allow you an extra FEE FREE Partnership week every time you complete a pre-approved course of CPD - We will even help you find worthwhile courses to partake if you wish. If there is a course you would like to do then please just let us know.
Keeping a Professional Look
As well as giving a professional driving lesson and customer service we feel that wearing branded clothing can also help you maintain the look and feel of a professional, for this reason as part of the partnership, we will supply you with several smart branded polo-shirts and a company branded fleece. Branded waterproofs are also provided to our commercial trainers and are an optional extra for our category B instructor team.
We will also supply you with customised business cards to hand out to your pupils and their friends.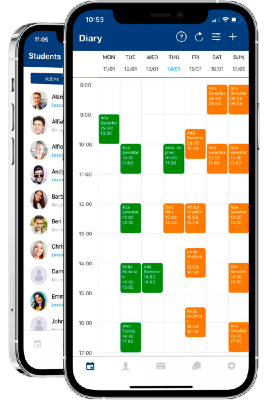 Powerful Diary System and Pupil App
To help you run a professional business, our administration team will give you access to the Total Drive diary system. If you are unfamiliar with the Total Drive diary system, then we think you will be in with a pleasant surprise on how it can help you run your partnership business.
Total Drive is a dedicated app for driving instructors and their pupils. Manage lessons through the diary, recording each pupil's progress, payments, reflective logs and driving details. The complete all-round system for the professional driving instructor, your pupils are going to love it.
If like a lot of us, you're a little scared or worried about getting to grips with technology, please don't worry. On your introduction to joining the team we will help you get set up and show you how to make the most of this powerful tool.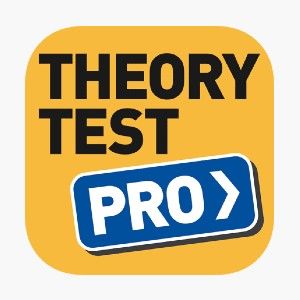 As part of our service to your customers, all your customers, whether supplied by us or self-sourced by you, will be given the opportunity to use our Theory Test Pro account to study and perfect their driving theory.
Theory Test Pro have a smart phone app making it easy for your learners to learn their theory on the go wherever they are. This can be a great selling point to potential pupils considering choosing you for their driving lessons.
No Payment, No Booking Policy
We believe that as a self-employed driving instructor that you cannot afford such things as last minute lesson cancellations or no shows. In fact, if you lose just one 2 hour lesson a week due to a late cancellation or a no show, that can add up to a loss of more than £3000 a year. Taking this into consideration a few years ago we introduced a new policy that has completely stopped last minute cancellations and no show from pupils.
When we book a customer into your diary, we take payment up front for the booking, company policy is, no payment then no booking, we then pay the whole lesson fee directly into your account before you even leave home for that pre-paid lesson.
We strongly recommend you follow this policy and along with our 24 hours' notice policy you can make sure you keep that extra £3000 a year in your pocket. The Total Drive diary system also allows your pupils to pay you directly using their pupil app, this will help you enforce this policy and save you a ton of time trying to find a cashpoint at the end of a lesson.
Setting Your Lesson Prices
We believe that as a professional driving instructor delivering high grade driving tuition, you deserve to be well paid for your expertise, experience and time. As such we aim to set our driving lesson prices at the highest possible local rate. But what is more, if you believe that your prices should be even higher, then we think it's your right to charge what you feel you can achieve, just let us know and we will work with you. The only rule we do have is that you do not under cut our prices as this will be unfair on other members of the team.
We also do not run special offers for pupils either, the only discount they may get is a small one for purchasing a block lot of 10 hours of driving lessons. We find that our reputation and targeted advertising is enough to keep our team busy with more than enough work.
As an optional extra, using your own dual control car for lessons, we are happy to supply you with professional vehicle graphics to really help complete the professional look. Nothing shouts professional driving instructor like full vehicle graphics, and we would also recommend having your own name on the doors to complete the look.
As I said this will be a personal choice and if you would prefer just a headboard then that is fine too. Vehicle graphics while included on vehicles supplied by us, do carry an additional charge to our team partners.
If you wish to go ahead with vehicle graphics, then a design a quote will be arranged for you. Graphics usually cost around £300 per vehicle and we can spread the cost over a few weeks if it's easier for you.
Save 10p - 15p on the price at the pump and 50% off the monthly charge when you are part of our driving school.
You will have a choice of 8 different cards to choose from and can pick which best suits your needs.
We have teamed up with FBTC to save you money on your first year of accounting - Ask us for more details
If you are like me, you will probably dread your standards check. All our partnership members get full access to our Standards Check Guide which will help you piece together what the examiner is looking for and how you can achieve a high mark in each area of the 17 areas of competence. We also provide you with 1-2-1 training with one of our instructor trainers. We can even arrange for one of the trainers to sit in on a driving lesson with you, or you can sit in on one of theirs, just to give you that extra confidence that you are doing everything you can to get a high score.
A lot of what will happen on the day of your Standards Check and the result will come down to your nerves, not many of us like being examined so we can appreciate how our pupils must feel on their test day.
As an encouragement to you to make the time for extra practice prior to your Standard Check and regular CPD that can help you, we will reward you with a Partnership Fee Free week if you pass your Standards Check with an A Grade, you will need a score of 43 or above to achieve this.
Partnership Fee Free Weeks
As with any job, we all need a break and time off. Taking this into consideration we will give you 2 weeks fee free that can be used at any time of the year in any 12-month period, these are available to you after your initial 3 months with the driving school. These fee free weeks are on top of any fee free weeks you have earned for completing a CPD course or achieving a Grade A with your Standards Check. All that we require is 2 weeks' notice as to when you would like to use them.
Earn regular extra income for helping us Grow the Partnership
The more we grow the more customers look to us for driving lessons and because of this we often have a need for additional driving instructors to join the partnership. We know that word of mouth is quite possibly the most effective way of growing any business and our recruitment campaign is no different.
So we ask our partnership members to help us grow by helping us recruit new partners when needed. This can either be qualified ADIs or people looking for training to become a driving instructor. For every new instructor you bring to the team, we will pay you a finders fee of £100. On top of this we will then pay you an additional £10 per month for as long as that ADI remains with the partnership.
Additional Perks of the Partnership
As a driving school we also lease driving school dual controlled vehicles to our Partnership members, as such if using your own vehicle and you suffer a breakdown, our team can organise a spare vehicle for you to use while yours is fixed. There will be an additional charge for the hire of the vehicle, but these will be on a cost basis to ourselves and not the extortionate daily rates charged by some.
We like to keep everyone included and involved as a group, for this reason we aim to hold a minimum of two social gatherings per year with all of you being welcome, one will be a Christmas meal, for you and your partner if you so wish (Your meal will be paid for, partners must buy their own) and will be held near our head office in Dorset.
The second event will be decided each year by group voting but can include such things as a day at the races, motorsport events, track days or any other fun activity that is suggested by you our partners. Unfortunately, this second event will be charged at cost price to yourself, but we can usually help with transport to and from a venue if needed and is not compulsory that you partake.
Covid-19 During the lockdown period of 2020 and 2021 we suspended all franchise and vehicle leasing fees for our team of instructors. Although as a business we still had ongoing costs we do not believe that instructors should have to pay if they cannot work. We believe in a fair franchise system that supports its team when in need. If there are any future UK lockdowns, we will again act in our partners best interests and again freeze all partnership fees, this is another Guarantee from us.
Illness - If at any time you are a partner in our business and you become seriously ill or are in bad health which stops you from working, we will again freeze any partnership weekly fees. (this will apply if you are unable to work for more than 7 consecutive days)
Try Us For Free For Your First Four Weeks
Because we are so convinced that we can help you grow your business, we are offering you the chance to try out our driving school partnership totally free with no cost or comitment for your first four weeks.
All that we ask is that you promise to give it your all for the customers we give you during your free trial and that if you do decide we are not for you, then we ask that you continue to teach any pupils we have given you in the free trial period.
We work very hard for our team and our aim is to do what we can for them, cover our overheads and at the same time keep the cost to them as reasonable as possible. As such we currently set the weekly fee to £95 per week for PDI's and this drops to £75 per week for ADI's. We feel this is a fair price for what we provide, and it allows us to maintain our reputation for excellence both with instructors but also our huge customer base.
There is no minimum term contract with our partnership, we work on the basis that it works for you and offers you what you need.
If you have any questions or would just like a no obligation chat either on the phone or in person over a cup of tea, then please use the form below to get in touch.
A further discount on weekly fees will be given after 2 years with the driving school as an ADI.
Become one of our Driving Instructor Trainers
We are always on the lookout for additional instructor trainers to help us train new PDI's.
This can be a great opportunity to improve your income and job variation. Firstly we will require you to complete a Train the Trainer course.
We will source new PDI's for you to train, or you can even source them yourself and use the support and admin we provide.
You will receive the training fee's paid by the PDI.
When the PDI/ADI is on the road teaching, you will also recieve an additional weekly income direct from us for as long as that instructor remains with the driving school.
If you would like to know more about leasing a dual controlled car from us then please use the button below to be taken to that page.