Get off to a great head start with learning the basics of driving and road safety and be the envy of your friends. All our cars are dual controlled for your safety and you will be given a qualified driving instructor to guide you through everything.
Your driving session will normally be 60 mins of one to one training but you can book longer if you like. Your driving session will mirror what you would learn on our regular driving lessons with our DVSA approved driving instructors, except this will be taught in the safety of the Henstridge Airfield where you will be able to relax without the worry of dealing with the traffic of the roads.
As you progress then you will be challenged even more, when you are ready your driving instructor will help you learn how to reverse into restricted spaces, Parallel Park and negotiate our salom.
Henstridge Airfield has plenty to offer and we guarantee you will be going home with a big smile on your face and you will be eagar to return.
What you can expect from your sessions with us.
If a new beginner, you will be taught how to set yourself up in the car, followed by basic clutch control with moving off and stopping, the changing of gears and steering.
As you progress or if you have previous experience then we will teach you how to deal with other traffic, carryout an emergency stop along with some reversing and turning exercises.
Groups Or Special Occasions
We are able to accommadate groups for specially organised driving events if this is something you require. Starting 2013 and again each year since, we have ran a special event for Dorset Blind Association where members were able to full fill their life long dream of getting behind the wheel for the very first time and I am pleased to say they couldnt get enough of it and have vowed to return again for another session soon.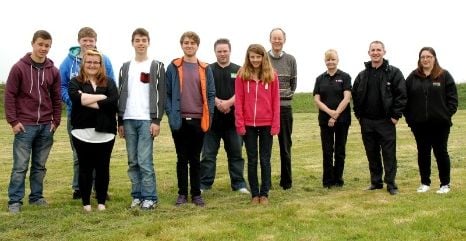 Henstridge Airfield Driving School
If you are a school or youth group organisation that would like to hold a special event then please give a us a call and we will be able to offer a special price for the group.
Henstridge Airfield Driving School
Come and enjoy a session at our under 17's driving event which is held at Henstridge Airfield just off the A30 in North Dorset on the border with Somerset. Its about 10 miles from Shaftesbury and about 10 miles from Sherbourne. We run these event every 4 weeks throughout the year, except December and January, so checkout our next dates below.
Single one on one sessions are now sold in 30 and 60 mins at a time with one pupil to one instructor.
A 30 min session will be £49.00
If would like to book a 1 2 1 session online then please follow the link above
If you would like a shared experience then please call
Now the Important stuff
The minimum Requirements. You must be aged 10 or older and a minimum height of 4'8ft and you must have your parents permission to attend.
May 19th 2013 update: What a fantastic day we all had, below are some of the quotes we recieved from pupils that took part in our first ever event
Kerrianne Russell of Shaftesbury quoted: Fantastic and Brilliant
Tyler Weedon of Gillingham quoted: Brilliant
Bella Murphy of Okeford Fitzpaine: A Fun Helpful Experience
Ellis Jane Smith of Stalbridge: It is a great opportunity to get behind the wheel
Jamie-Lee Andrews of Shaftesbury: Really good, cant wait to get on the road. A really good experience
Launa Street of Charminster: Brilliant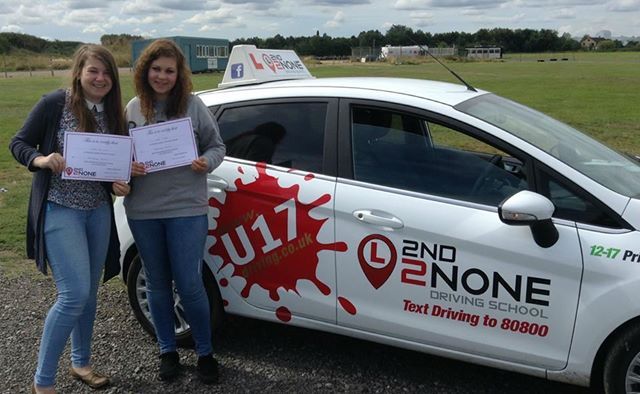 Here we have Chloe Rennard and Lotti Parfitt both from Gillingham Dorset.

Chloe said she really enjoyed driving and the best part was learning to change gears. Chloe said she will be recommending this event to her friends and would love to come again but she will be turning 17 soon and cant wait to start regular driving lessons.

Lotti also enjoyed her under 17s driving session. Lotti said she learnt a lot about turning at junctions and using the gears. Lotti would love to come to another under 17s driving event and will also be telling all her friends about her driving session.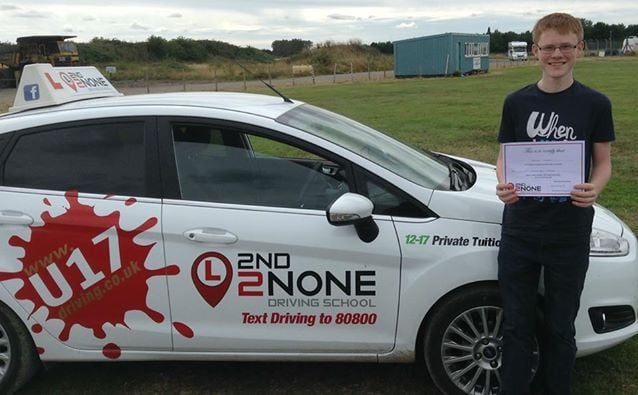 Here we have Elliott Sellers of Shaftesbury.
Elliott enjoyed his driving session today and thought the best part of his under 17s driving session was learning how to turn at cross roads, Elliott also enjoyed trying out a turn in the road and descibed the whole event as pretty perfect.
Elliott is going to tell all his friends about the under 17s at Henstridge Airfield and would like to come again to another event.